Adding glass elements to interior design always brings extra lightness and enlivens the space. In the case of sliding wardrobes, this is a particularly important and fashionable nuance.
Glass doors in wardrobes and wardrobes.
Wardrobes and Walk and Closets with glass doors make the room brighter. If you also install beautiful background lighting behind the glass door, the interior will look especially impressive. But there is one thing, behind such glass doors, their contents are clearly visible, and order in them will have to be maintained with special diligence.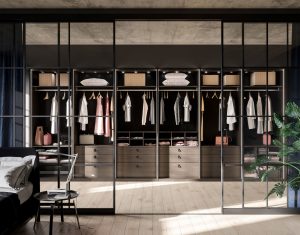 Benefits:
– Lighten up the interior. Designer glass doors, or let's call them glass facades in another way, visually make the interior lighter and the room more spacious. Well suited for small apartments where there is no way to allocate space for a large dressing room. Glass doors, even in small wardrobes and dressing rooms, will visually make the living space more spacious.
– Completely transparent. Wardrobe doors allow light to pass through them, which means that you do not have to spend extra electricity on lighting the room during daylight hours. Glass not only transmits light, but also reflects it, which will make the interior more airy. The right tone of glass, such as bronze or gray, will also make its contribution, it will be in perfect harmony with the details of your interior.
– Divides the room into zones. A glass sliding doors can separate a bedroom from the rest room, such as in a studio apartment. The wardrobe part will look like a transparent wall with clothes inside. This design technique is simpler and at the same time more effective than the usual division of the room with a wall.
– You can experiment with glass design. Glass is a material that can be further processed. Even without additional decorations, transparent glass looks very attractive in the interior. The glass surface can be sandblasted with different patterns, as an interesting solution if glass facades alone in the interior are not enough.
– Looks universal. Due to the fact that the glass looks quite simple and free, it is easy to fit it into different interior styles, from classic to minimalism or Loft design.
New wardrobs from Noteborn:
The design frame around the door creates a sense of exclusivity.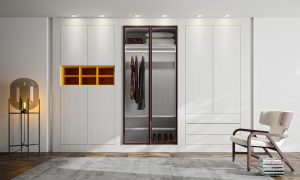 Feel free to choose the same color and design or combine with panels and doors of different colors.
New technologies and developments of Noteborn studio (Netherlands).